Discover a Non-Surgical Fountain of Youth with our Prestige Treatments. These treatments are designed to give you rapid results. For the woman who wants to slow down the aging process while repairing her current visible signs of aging. Ideal for the client who desires to avoid invasive procedures, injectables and cosmetic surgery. At the same time, these treatments are also perfect for the client who wants to maintain her skin between cosmetic procedures and injectables. Each procedure is 60 minutes long and targets the face and décolleté. Delivering Maximum benefits with zero downtime.
Fountain of Youth Anti-Aging Series
For the best Anti-Aging result we recommend a series of 3 treatments over a 90 day period. Session 1- Million $ Microglow, Session 2- Flawless Face Lift, Session 3- Fire & Ice Facial.
Million $ Microglow
Featuring a Microdermabrasion treatment, Nano Infusion of Hyaluronic Acid with a exclusive youthful elixir containing truffles & 24K gold. Microdermabrasion is a form of mechanical machine exfoliation that originated in Europe using a diamond tip applicator with vacuum. Nano Infusion allows absorption of skin care products to stimulate collagen and elastin production. Skin naturally absorbs the active ingredients many times more effective through the nano channels, thus refining wrinkles, reducing scarring, improving hyperpigmentation and other skin imperfections and restoring the overall health of the skin. Truffles and gold belong to the highest echelons of skin care luxury because they work from the inside and out enhancing the skin's natural renewal process, diminishes hyper-pigmentation and age spots, promoting a natural glow to your skin tone, while minimizing fine lines and wrinkles. Thus giving you a Million $ Glow!
Flawless FaceLift Facial
The Protein Lift Oxygen Therapy Facial will Give rapid skin results to tired, wrinkled, sagging, and photo-aged skin with revitalizing Protein, Hyaluronic acid and quick acting Vitamin C complex that will give a tight and firming lift to the skin.
Fire & Ice Red Carpet Facial
This 15 step invigorating treatment uses cool and warm temperatures to stimulate oxygen and blood flow to your skin cells. As well as a lactic acid pre-treat and Oxygen Skin Regenerative Peel. Cutaneous skin cells rely on oxygen diffusion. This unique one of a kind oxygenating peel formulation releases bio-oxygen power aiding inner-cellular diffusion and the benefits of lactic acid for cell regeneration revealing baby smooth, youthful looking skin. Oxygen Skin Regenerating Peel breathes back a youthful life to hypoxic, dull, tired, damaged skin cells. Rich in arabinogalactans derived from botanical plants, skin will brighten, firm, tone and immediately glow with health. Accompanied by a cool Rose Quartz mask. Rose Quartz is a beautiful stone known to promote calming and soothing that can help promote a sense of wellbeing. Giving you the perfect glow up to your next event.
Nano-Needling
Transdermal Serum Infusion is an innovative, non-invasive serum delivery system designed to rejuvenate your skin. This treatment instantly allows up to 1000% more absorption of our professional-grade Hyaluronic Acid, gently exfoliates, increases hydration, increases circulation, softens lines and wrinkles, improves skin texture and boots collagen production.
Hydro Facial
This 5 step invigorating treatment includes deep cleansing, exfoliating, and extracting impurities from the skin while simultaneously infusing nourishing growth factor ingredients to hydrate the skin. Its many benefits include a more hydrated, bright, plump, and clear complexion. Plus, it can also improve signs of aging. The treatment reduces fine lines and wrinkles, increases firmness, evens tone, texture, and brown spots, as well as reducing enlarged pores.
RF Skin Tightening Facial +Neck
Sagging skin, wrinkles and fine lines are common issues that stem from genetics or photodamage caused by exposure to the sun. Over time, collagen and elastin, two components present within your skin, break down and cause your skin to lose its elasticity. During a radio frequency (RF) skin tightening procedure, heat is used to encourage the production of new collagen and elastin. The renewed production of these components helps to eliminate wrinkles and fine lines, and tightens skin.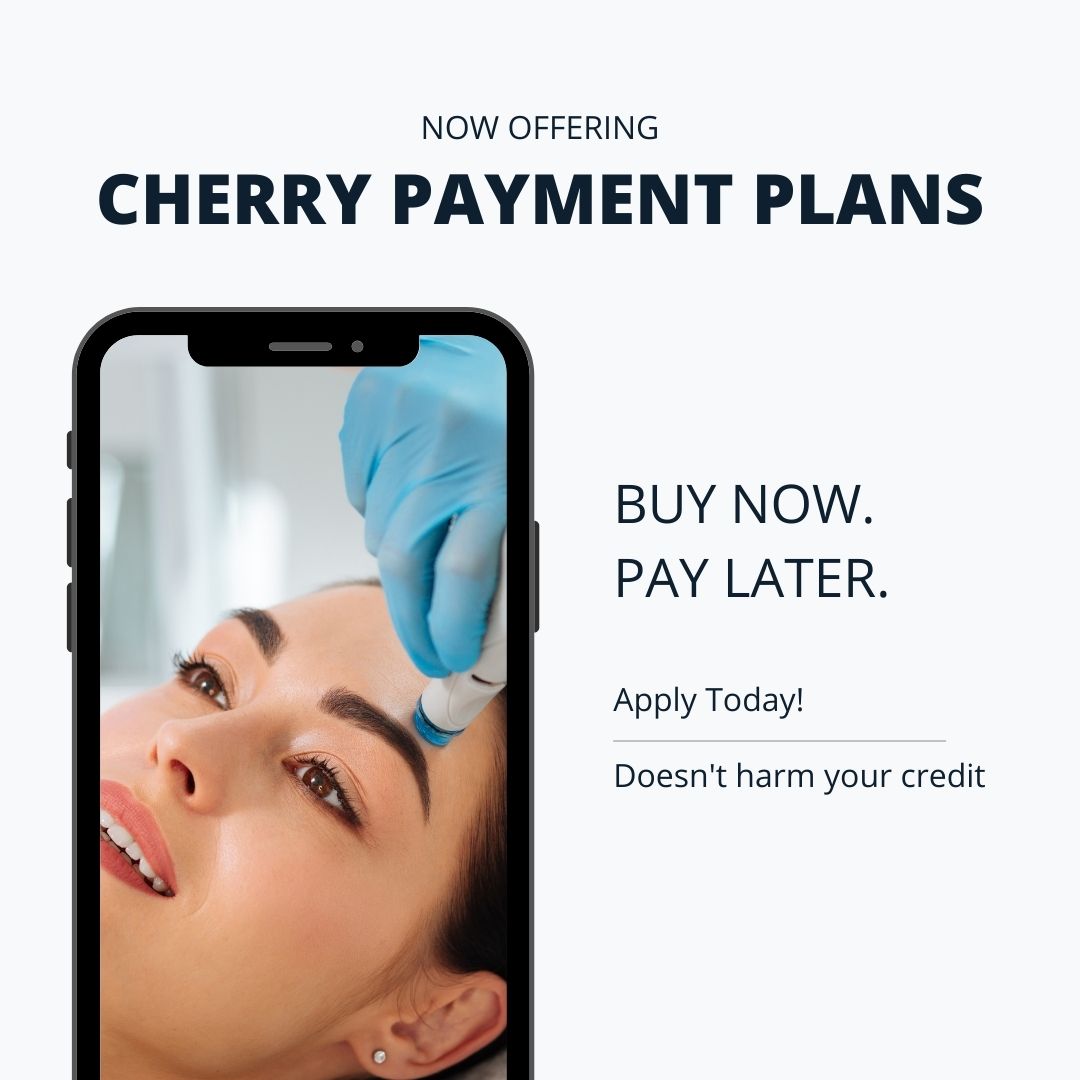 MD Pen Microneedling
MD Pen Microneedling Series of 3 (Recommended)
Microneedling also known as Collagen Induction Therapy, results in the production of new collagen and elastin, improvement in skin tone and texture, firmness as well as reduction in scars, pore size, and stretch marks. Microneedling rejuvenates your skin from the inside out! MD Pen Micro-needles produce micro-injuries to the epidermis, which stimulates the production of collagen and elastin and improves your cellular turnover rate. As we age, our collagen production and cellular turnover rate slows down, resulting in less vibrant, dull looking skin. The needles create channels in the skin, which increases the penetration of your serum antioxidants by up to 80%.
Improve the appearance of fine lines and wrinkles
Tighten skin
Improve the appearance of hyperpigmentation/melasma/sun damage
Enlarged pores
Acne Scars