Slimming with Ultrasonic Cavitation and Radio Frequency +optional Cellulite Vacuum
Ultrasonic Cavitation is widely recognized as one of the most effective cellulite reduction and local fat loss technologies available today. Our Low Frequency Cavitation is applied with our advanced treatment protocols and is the strongest and best Cavitation treatment available today.
What is ultrasonic cavitation treatment?
Ultrasonic cavitation, also called ultrasound cavitation or ultra cavitation, is an FDA-approved, nonsurgical fat reduction procedure that uses ultrasound waves to destroy fat cells in targeted treatment areas—typically the upper arms, belly, love handles, thighs, or chin.
Each ultrasonic cavitation session takes about an hour. Your provider will glide the cavitation machine's handheld probe over the desired area, delivering low-frequency sound waves that "vibrate" the walls of the fat cells until they burst and turn into free fatty acids the body can expel. The treatment itself is painless (it's even been called relaxing) and requires little to no downtime.
Ultrasonic cavitation risks and side effects are rare, but people who have pacemakers, diabetes, cardiac issues, or vascular disease are not candidates.
What are the pros and cons of ultrasonic cavitation?
Pros
Ultrasonic cavitation is painless.
Recovery time is minimal to nonexistent, and side effects are rare.
It's much less expensive than liposuction, even with a series of sessions.
Cons
It's a real commitment. Some people need 6–12 treatments, and up to three months after your last treatment while your body flushes the dead fat cells, to see your final results.
Does ultrasonic cavitation really work?
The only FDA-approved device that use ultrasound energy to destroy fat cells, have significantly higher ratings than other types of ultrasonic cavitation treatments.
Once the fat cells are destroyed, they're gone for good—so results can be permanent. However, as with any fat reduction or body sculpting treatment, you'll need to maintain a healthy diet and exercise regularly in order to keep the remaining fat cells from expanding. Also keep in mind that ultrasonic cavitation isn't a weight loss treatment—it's intended only to address stubborn pockets of body fat.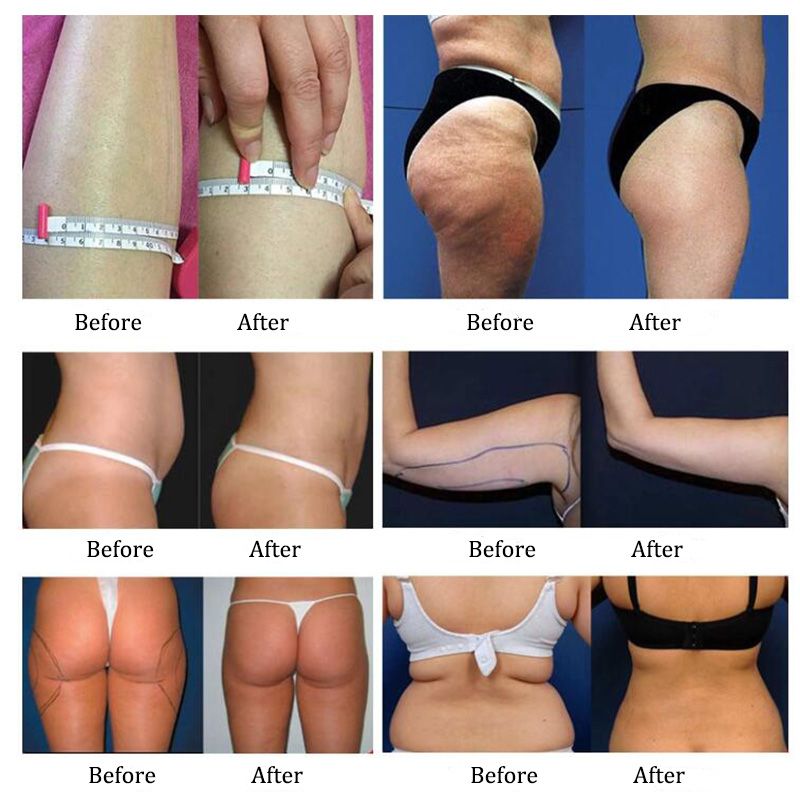 How long does it take to see results from ultrasonic cavitation?
Typically, you can expect to see final results three months after your last session, but it depends on how effective your body's lymphatic system is at flushing out the damaged cells. The excretion begins right away, and drinking plenty of water, eating well, and exercising regularly can all help to speed up the process.
How long do results last?
If your weight is stable, your results will be long-lasting—many years to a lifetime. However, hormones, age, and other factors are also associated with increased fat, and weight gain can cause the remaining cells in the area to expand.
Does it destroy fat cells?
Yes. The devices work by vibrating the cells with a low-frequency sound wave until they burst. When the membrane breaks, it causes the inside of the cell to be exposed to the lymphatic, or immune, system. When the fat cell breaks down, it becomes free fatty acids that in turn are sent out of the body as waste products through that lymphatic system.
Can ultrasonic cavitation get rid of cellulite?
Yes it can help to reduce the fat bound to the cellulite bands/cords thus reducing the appearance of cellulite.
What are the side effects and risks of ultrasonic cavitation?
Generally, it's a low-risk, safe procedure. Side effects are few and far between.
Ultrasonic cavitation should be pain-free, and most people describe the procedure as calm and relaxing. As always, it's recommended that you seek out an experienced provider who uses the most up-to-date equipment.
This treatment uses three types of technology-
Ultrasound -uses low-frequency sound waves to heat and vibrate the layer of fat cells below the skin's surface causing pressure, which eventually causes the fat cells to liquify and release their contents to be eliminated safely by the body.

Radio Frequency Technology – uses advanced technology that safely heats the deep layers of the skin causing collagen fibres to contract and remodel leaving skin more lifted and tightened. (Radiofrequency can be used for both the face and body)
Cellulite Vacuum- Vacuum suction for cellulite is a lipomassage technique that helps reduce the areas affected by fat accumulation by stimulating the circulation and reducing adipose tissue. The results begin to appear from the first weeks of treatment although, in most cases, the results are visible after a full treatment lasting 10 sessions.
What areas can be treated?

Areas that can be treated include:
Abdomen
Hips
Love Handles/Flanks
Inner and Outer Thighs
Upper Arms/Bingo Wings
Bra and Backs Rolls
Buttocks
Chin
Face (RF Only)